Globally-influenced dishes and a warm atmosphere make Fireside Brewhouse an ideal place to develop relationships that matter.
Wednesday, January 17
11:45a - 1:30p
Fireside Brewhouse
997 E County Line Rd
Greenwood, IN 46143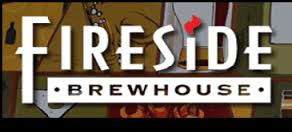 Trying to Break Through the Cold? An Affinitates Luncheon can take care of that #Affinitates #RelationshipsMatter
Relationships are a lot like the weather. Coldness can get in the way our reaching our goals…whether it be a location or a conversation with the right person.
While outside temps were single digits, business relationships were warming inside with the first Affinitates Luncheon of 2018.
Quality people sharing their purpose with each other usually results in great things happening...and that doesn't even include the gift David Baker received from Fireside Brewhouse!
There's nothing better than interacting with business leaders that recognize that relationships matter. Thanks for the insights shared by today's attendees.
Deyman Doolittle, Sean McAuliffe, David Baker, Jason Graf, Dan Lawson, Jackie Lewis, Brad Willy, Jaclyn Sigmon, Brice Scobell